A Complete Medical Facility & Cosmetic Surgery Center
For the Privacy, Safety, and Convenience of Our Patients
The Appearance Center of Newport Beach is a complete facility, equipped with the most up-to-date medical technology for curative, functional, and cosmetic treatment. Our adjoining surgery center is accredited by the Joint Commission, held to the highest standards of safety and care, and is unique to our establishment, offering patients privacy and convenience in a comfortable and serene medical setting.
The facility includes: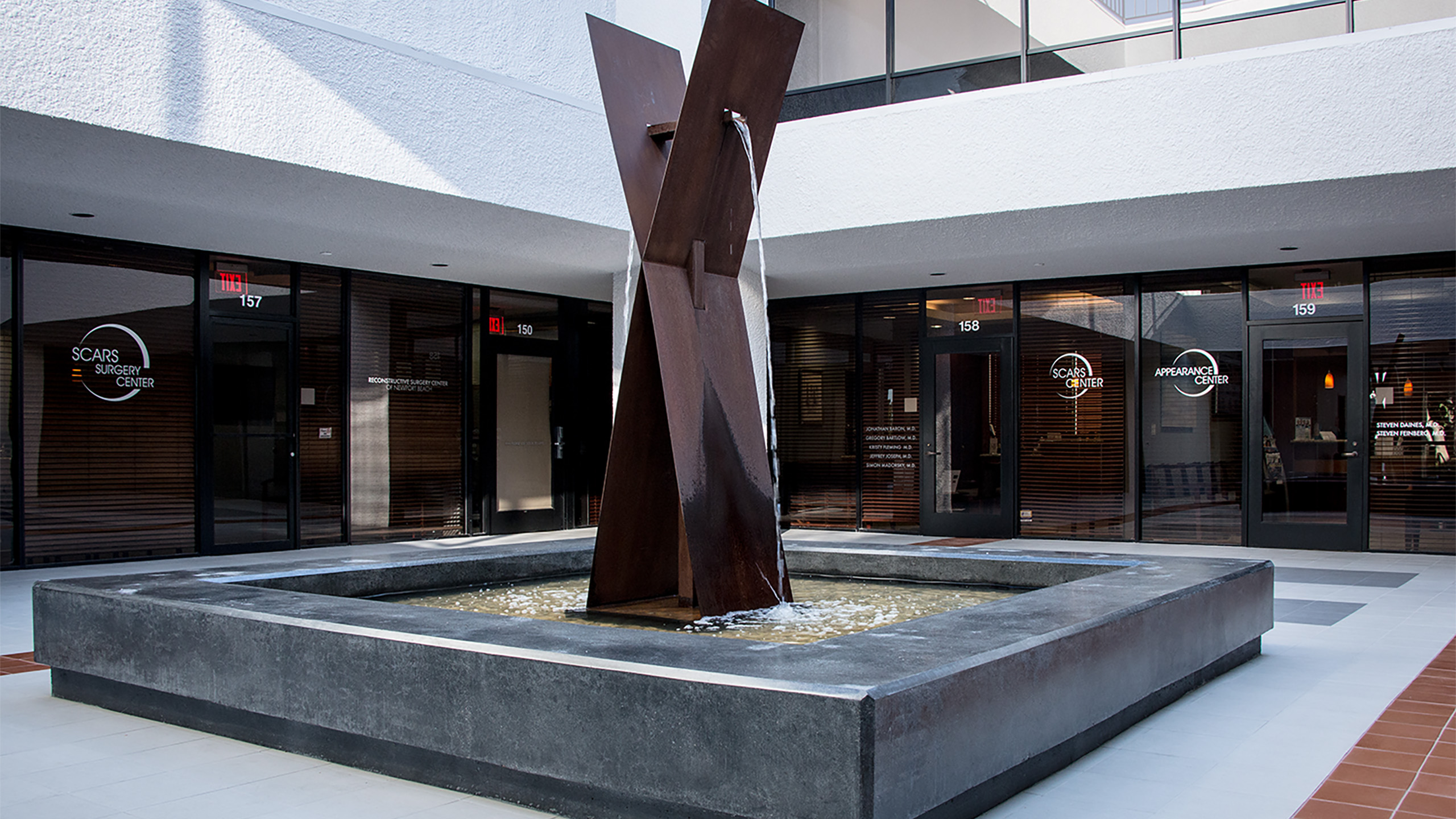 Arrival and Parking Information
The Appearance Center is located next to the Fashion Island shopping center in Newport Beach, Orange County, one of the most prominent areas for plastic surgery in southern California. Our facility is nestled comfortably across from Macy's Department Store and Fig & Olive Restaurant on Newport Center Drive and Anacapa Drive. Parking can be located in the higher lot, adjacent to the hand car wash, or in our building's parking garage, located just below our facility. For our patients' convenience there are reserved parking spaces in the rear of the garage in addition to the preexisting guest parking spaces available. There is an elevator for easy access to the main floor directly from within the garage.
Upon entering the main building, patients will encounter a courtyard with a wonderfully relaxing fountain, inviting patio furniture, and medical suites addressed 150 - 159. It is in these suites that you will find The Appearance Center of Newport Beach, its sister facility Skin Cancer And Reconstructive Surgery Center, and our fully functioning Joint Commission accredited surgery center. Each part of our facility functions independently of one another, but also establishes itself as a resource for the interreferral of our cosmetic, skin cancer, and surgical patients.
Our Medical Facility
You will be greeted by a friendly front office administrator upon entering our facility. She will assist you through the digital check in process by ensuring all medical information is entered accurately. Insurance information will be taken at this time and kept on file as part of your medical record.
Patients will have access to WIFI and refreshments in our lobby while awaiting their scheduled appointment time.
Patient appointments most typically take place in our physicians' clinical rooms. It is here that our medical assistants will take your medical history, and ensure that all safety precautions are implemented when preparing for cosmetic and medical treatments. Your surgeon will meet with you personally in the clinic room to discuss your areas of concern or desired improvement. Here they will provide you with a conservative but effective long and short term plan for ideal results, personalized to fit your individual needs and aspirations. If part of your personalized beauty plan involves nonsurgical treatment, you and your surgeon can discuss same day treatment in the medical clinic.
More time consuming treatments such as CO2 fractional laser treatments, IPL treatments, and dermabrasion will take some preparation and planning. Those treatments will take place at a prearranged appointment time within the medical clinic.
The Appearance Center of Newport Beach is directly connected to our Joint Commission accredited surgery center, Skin Cancer And Reconstructive Surgery Center, dedicated to patient care in plastic, reconstructive, ENT, and orthopedic surgery. We are held to strict, comprehensive evaluation and safety standards, and proudly offer exceptional results and the highest quality of medical expertise in Orange County.
Patients will access the surgery center by way of our relaxing courtyard. Upon entering the surgery center lobby, you will be greeted by surgery center administrators who will assist you in the check in process. During surgery, friends and family members may choose to wait in the private lobby, where WIFI and television are available, outside in our lounge chairs, near the fountain, or they may choose to visit Fashion Island shopping center if they wish to remain nearby. Our friendly administrators will arrange a phone call with your caretaker to notify them once surgery is complete.
Read More About our Surgery Center Amenities and Credentials.
Visit Our Center
The Appearance Center welcomes you. Call us today to schedule a consultation with one of our knowledgeable and friendly specialists.
Appearance Center Newsletter
Stay on top of beauty trends and be the first to hear about upcoming Appearance Center specials and events. Subscribe today!
The Appearance Center of Newport Beach