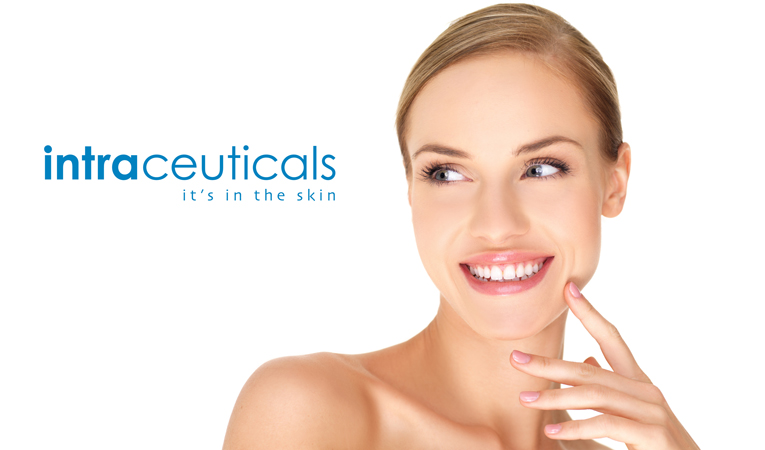 Intraceuticals Oxygen Treatments rejuvenate and freshen the appearance of the skin with an intense burst of vitamins, aloe vera, hyaluronic acid, and oxygen.
Oxygen Facials Explained
Oxygen facials are administered using a machine with a handheld tip that gently pumps a vitamin-rich serum into the skin with the use of oxygen pressure. This technique invigorates the skin, moisturizing the surface and adding various beneficial products into its deepest levels.
Oxygen facials are given in two steps. The first step is to cleanse the patient's skin, sometimes incorporating an enzyme for exfoliation. This step removes excess oil and debris, opening the pores and enabling the oxygen to penetrate the skin more deeply. After exfoliation, a handheld wand resembling a makeup airbrush applicator emits pressurized oxygen directly to the skin. The pressurized application encourages rapid absorption while maximizing cellular saturation. Oxygen has natural antimicrobial properties, so the cool spray additionally calms the skin cells. Oxygen treatments do not require recovery time or cause undesired side effects. Unlike other types of facials, patients can also enjoy the convenience of applying makeup immediately after treatment.
The oxygen is often applied in conjunction with amino peptides, antioxidants, hyaluronic acid, and various vitamins. In this way, the skin receives nourishment while lines and wrinkles smooth away. The combination of the oxygen and the infused compounds help the skin better retain moisture. The procedure is completely painless and encourages rapid cell regeneration. Depending on the type of treatments chosen, each session may span approximately 35 to 45 minutes
What Skin Types Benefit from Oxygen Application?
The hydrating effects of oxygen facials benefit dehydrated, dry, or prematurely aged skin. The procedure is also appropriate for sensitive skin, sun-damaged skin, uneven skin tones, or other dermatological problems.
Oxygen Infusion Effects
Patients are pleasantly surprised following treatment as oxygen infusion provides:
Immediate visible results
Deep hydration
Added definition and volume
Improved texture and tone
Firmness
Enhanced collagen and elastin production
A healthy, radiant glow
Lasting Results
Patients usually experience a great improvement following the first treatment; however, repeated treatments help maintain the effects while encouraging the skin to continue improving. Initially, dermatologists recommend that patients receive weekly treatments for six weeks. Maintenance treatments are then provided every four to six weeks. The effects of the first treatment can last anywhere from three to seven days. Undergoing the recommended treatment regimen provides results that commonly last for months.
Additional Infusion Options
An Opulence Infusion involves the application of concentrated vitamin C, specially chosen plant extracts, and pressurized oxygen. Along with evening skin tone, the treatment eliminates blotchy reddened areas. Patients usually experience immediate results that continue improving in the days following the procedure.
For more information about Appearance Center's Oxygen Treatments, please contact our medical esthetician, Helen. She is always happy to answer patient questions about skin care.
Appearance Center of Newport Beach
At the Appearance Center, patients receive surgical and non-surgical procedures at the skilled hands of a board certified surgeon. We are proud of the fact that we are a leading facial plastic surgery center serving patients in Orange County. In addition to patients from Newport Beach, we also serve residents of Corona Del Mar, Fashion Island, Irvine, Laguna Beach and the Newport Coast.
Learn more about our face and neck treatments or schedule a consultation appointment with one of our surgeons today.