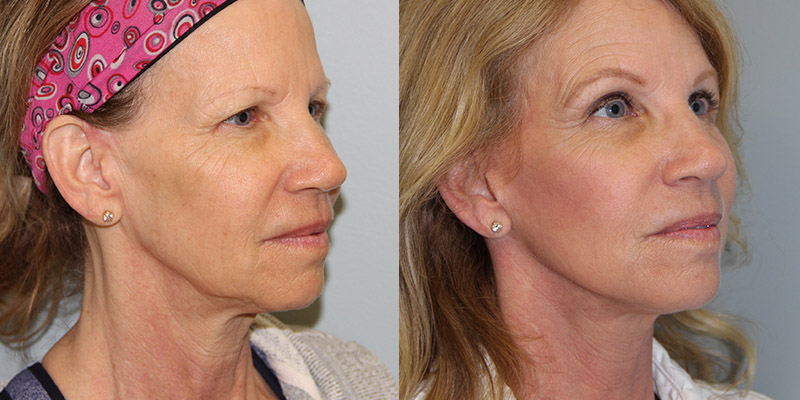 A facelift is a surgical procedure that treats multiple areas of aging in the face including the midface, nasolabial folds, the jowls, and the wattle. A facelift procedure combines the benefits of a Mini Facelift and Necklift into one procedure.
The loss of volume through age-related atrophy deflates the face. Gravity does the rest by flattening the cheeks and jawline and pulling the excess skin down. Although this volume can be partially restored with fillers, the facelift is a more efficient and permanent correction.
In some cases, lifting alone is not recommended, especially with severe volume loss. Attempts at complete correction of loose skin can result in a pulled appearance. At The Appearance Center of Newport Beach your facial plastic surgeon will construct a plan to that combines lifting with volume restoration, for a completely rejuvenated look. Your Orange County plastic surgeon may also discuss the option to incorporate fat transfer to the face or cheek augmentation with implants during your procedure.
If an Appearance Center facial plastic surgeon determines you are a candidate for a facelift you can look forward to the following results:
Elevated cheek areas
Improvement of nasolabial folds
Restored triangular facial shape
Reduced appearance of jowls and saggy jawline
A more youthful appearance
Improved quality of life
Determining Whether You Are a Good Candidate for a Facelift Consultation
Some of the most frequent signs of facial aging that our patients begin to notice are:
Loss of volume in the face
Saggy facial skin from the temples, cheeks, and jawline
Deep facial wrinkles
A significant reduction in cheek fat
The development of nasolabial folds
An accumulation of fat along the jawline (jowls)
Loose skin in the chin and neck
The list above is explained by our surgeons as being part of the "Three Ds in Aging."
Descent – skin and muscle begin to lose elasticity and shift downward
Deflation – loss of "baby fat" marked by hollowing in the temples, eyes, and other facial structures
Deterioration – skin begins to lose its continuity in color, marked by the development of brown spots, uneven textures, and wrinkles
Facelift Surgery Explained
Many people are under the old misconception that a facelift procedure will result in tightened facial skin around the eyes and forehead and scarring in the hairline. In actuality, the surgery is performed to the lower half of the face using progressive technological advances and innovative techniques that enable us to combat the causes of facial aging with less chance of scarring.
During a facelift procedure most incisions are made to be well hidden. They will be methodically located around the temple hairline, down the front creases of the ears, around the earlobes, and behind the ears into the posterior hairline. Once the incision is made, the skin and muscles of the lower face and neck are released and repositioned. Any excess skin is trimmed at that time. Similar to a neck lift, an incision under the chin may be required in addition to neck liposuction. If it is part of your discussed beauty plan, stretched earlobes can also be rejuvenated at this time.
Combining Surgical Options in Newport Beach
A facelift does not address the eyes or forehead, but many patients choose to combine their procedure with eyelid surgery, a brow lift or fat transfer to the face for volume restoration. The benefit of combining surgical options is twofold: the patient is already under anesthesia and will save money on anesthesiologist fees (if they had intended on scheduling a second operation in the future), and there is only one recovery period, so the patient can resume his or her daily schedule without the interruption of a second surgery.
At The Appearance Center of Newport Beach your board certified plastic surgeon will help you achieve a more youthful appearance and an increased confidence in the way you look. You can count on us to provide you with comprehensive treatment options designed to help you look and feel vibrant and rejuvenated.
Our natural, refreshed facelift results are made possible because of our unwavering dedication to staying up to date on modern techniques and innovative treatment methods.
The goal of every Orange County plastic surgeon at The Appearance Center of Newport Beach is to help improve the appearance of each of our valued patients in a manner that leaves them feeling refreshed and youthful. To do this we utilize a number of techniques designed to fit each individual need.
Our friendly staff and surgeons will take the time to learn about your concerns and expectations and put together a personalized treatment plan just for you. We provide honest, informative answers to any questions or concerns you may have about the procedure you are considering, and provide you with all of the resources you need to make an informed decision.
There are a number of facelift methods that can be used. You may have heard of some of these terms. It is important to remember that your surgeon is highly trained and will determine the best surgical plan for the outcome you desire.
Some of the facelift terms you may have heard before:
Subcutaneous facelift
Subcutaneous facelift with fat suspension
Superficial Musculo-Aponeurotic System (SAMS) facelift
As part of our unwavering dedication to exceeding patient expectations, we work hard to elevate facial fat into the cheek area during your facelift so it can counteract wrinkles and provide a high level of volume. Benefits of this technique include:
Fuller and more youthful appearance of the cheeks
Defined jawline to create a triangular, elegant shape
Filled out area around the eyes by eliminating fine lines and wrinkles
Depending on the specific type of facelift as well as any additional procedures you may have in conjunction with your facelift, you should expect the surgery to last approximately three to four hours. After your surgery, you will want to do the following:
Use ice packs as recommended by your doctor.
Do not smoke for a minimum of two weeks after surgery.
Apply sunscreen and avoid sunlight for at least six weeks after surgery.
You cannot color or perm your hair for at least one month after your surgery.
Get plenty of rest. Make sure that you sleep in a reclined position at about 45 degrees.
What to Expect During Recovery
It's important to understand that facelift surgery can be an emotional process for many people. You may also feel groggy or nauseous, but it should subside within the first 24 hours after surgery. Any swelling or bruising should fade within the first two weeks and most stitches will dissolve within about a week. An exception to that is any stitches that must be removed by the physician.
Fortunately, post-operative complications after a facelift are rare. However, it's important to be aware of any signs or symptoms that could indicate a problem. The following is a list of possible complications:
Fever
Blood clots
Constipation
Fluid collection
Drain function issues
Be sure to contact our office immediately should you experience any unusual symptoms or discomfort.
Many patients experience a number of life changes in the following months after a facelift. In addition to youthful, glowing skin, you may experience an improved self-esteem, a refreshed outlook and even more pride in your appearance.
To schedule a consultation for a facelift, call Orange County's Premier Cosmetic Surgery Center at 949-200-1615 and ask to speak with a member of our friendly staff. We will gladly walk you through the consultation process and ensure that any of your questions are answered.