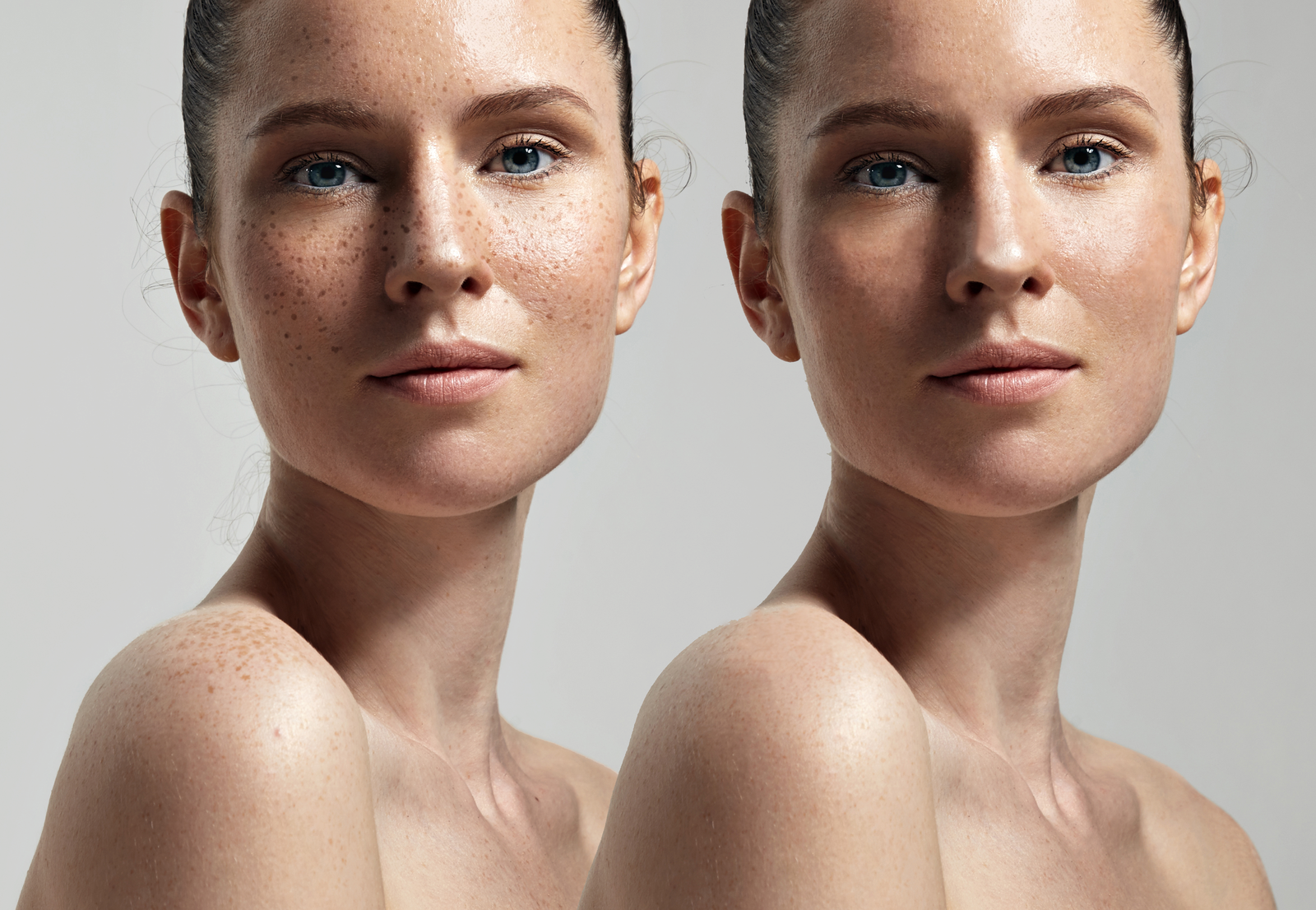 IPL stands for Intense Pulsed Light. IPL is not a laser treatment. IPL is a technology that uses rapid flashes of light to brighten the skin's tone and appearance. Most notably, IPL will reduce the appearance of red and brown pigmentation in the skin in addition to the appearance of spider veins.
IPL and Facial Rejuvenation
In recent years, cosmetic dermatologists and surgeons have seen a clear shift toward minimally invasive solutions for facial rejuvenation. With this shift, comes an increase in the awareness and usage of laser and Intense Pulsed Light treatments (IPL)– two very popular methods for obtaining lighter, brighter, and tighter skin. The process of correcting the skin tone and texture with IPL treatment is commonly referred to as photorejuvenation or photofacial.   While laser and IPL differ from one another, both are offered at The Appearance Center of Newport Beach as wonderful ways to return your skin to its youthful glow.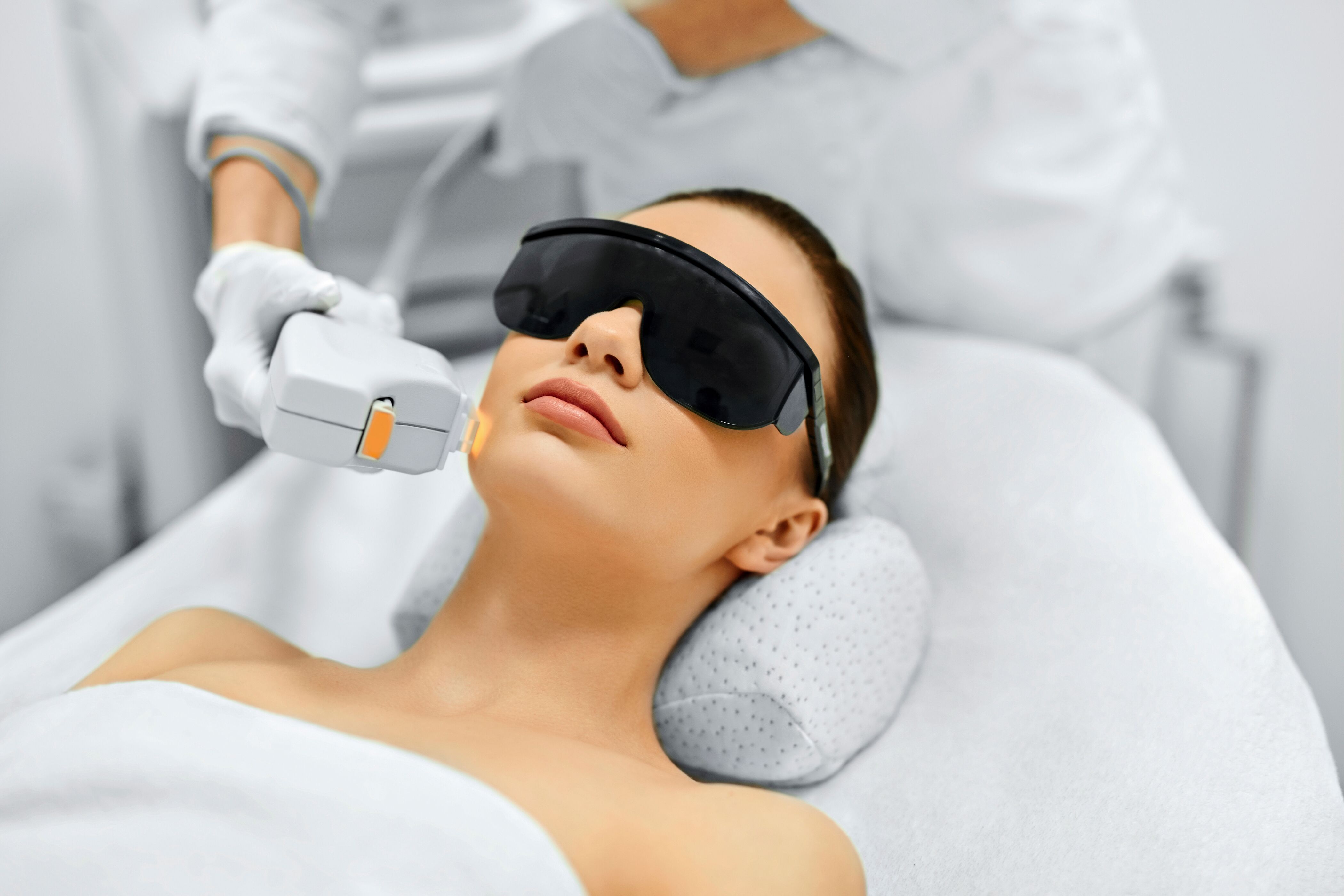 So how is IPL different from a laser treatment?
While IPL and lasers can often improve some of the same concerns, the technology behind the two differ enormously. IPL is a non laser treatment. Meaning, it is not as intense as a laser treatment and can treat the skin for multiple areas of correction in both condition and color. Unlike with a laser treatment, IPL can improve the overall appearance of your skin with:
Less (almost zero) recovery time
More coverage for correction of multiple issues: browns and reds in tone, spider veins, and acne, and can help minimize the appearance of scars and wrinkles.
WIth IPL, you can resume your day to day with little inconvenience and the benefit of gorgeous, rejuvenated skin.
At The Appearance Center, we use IPL to treat:
Age spots
Spider veins
Rosacea
Acne
Scarring
Our Fashion Island facility focuses on the face and neck where these skin ailments can be sources of frustration; however, we commonly extend treatment area to the chest, arms, hands, and legs where you may see the most signs of damage from the sun.
If you think you could be a candidate for IPL photorejuvenation, the first step is to book a consultation. We are happy to offer a comprehensive consultation which will include answering all of your questions on skin health and maintenance. If you are a candidate for IPL or laser treatment, you will be scheduled for your procedure by our friendly and informative Patient Care Coordinator.
What's Involved in the IPL Experience?
Procedure time will depend on the areas that you and your physician have decided to treat. Each area typically takes about 15-20 minutes. So, a patient looking to treat their face, neck, and chest, can guess that his procedure will range between 45 minutes to an hour or so.
Every patient is numbed with a topical ointment before experiencing IPL. Numbing should account for an additional 20 to 30 minutes of your time. When the skin is numb, the topical ointment will be removed, and your physician will spread a cool gel onto your skin. This gel protects your skin while conducting the light into its tissues. During treatment, you will be required to wear protective lenses. In general, patients are very much at ease during an IPL treatment. We ask that each patient keep open communication with the surgeon conducting treatment, as your comfort and ease of experience is our top priority.
After your treatment has concluded, your Appearance Center surgeon will escort you to a recovery area, where you will speak with our medical esthetician and medical assistants about aftercare. Post treatment is a wonderful time to really pay attention to and incorporate the benefits of quality skin health products. There are some things you will want to avoid, such as overly scented lotions, which may cause irritation, and there are some things you may love to consider incorporating into your routine. Post treatment is an optimal time to nourish the skin for maximum results and a vibrantly youthful complexion.
How Long do the Results Last?
The effects of IPL usually last for about one year. To maximize this time, our surgeons recommend maintaining a healthy lifestyle. Eating plenty of fruits and vegetables, limiting exposure to sunlight and toxins, and drinking lots of water are just some of the ways you can prolong healthy looking skin.
To improve your immediate results, our physicians often recommend combining your IPL treatment with a healing oxygen treatment. Our Intraceuticals Oxygenation Treatments are well known in the skincare industry for promoting skin health through the infusion of vitamins, oxygen, and anti-microbials.
Multiple Sessions with IPL
Your surgeon will discuss the number of sessions recommended to you based on the area and nature of your concerns. It is not uncommon to have multiple or regular sessions with IPL; however, many people see incredible results after the very first treatment. If you are prescribed multiple sessions, you can look forward to each session slowly breaking down the skin to create a smoother texture over a longer period of time. The goal of  incorporating multiple IPL treatments is to make your physical changes as subtle and long-lasting as possible. Expect your future appointments to have a similar schedule to your first treatment.
Virtually No Recovery Time
The recovery time is the number one reason people turn to IPL for facial rejuvenation. You can have clearer, brighter, and more luminous skin, with almost no commitment to downtime. IPL is able to achieve this through the use of differing wavelengths of light. Since your skin is exposed to several gentle changes over the course of your session, you will experience little more than some redness to your features immediately after the treatment. This color generally disappears within a few hours. You will not be limited in your activities and can return to your daily routine right away.
For more information on IPL, please contact our office to speak with our Patient Care Coordinator. We are ready to help you get more beautiful and luminous skin.