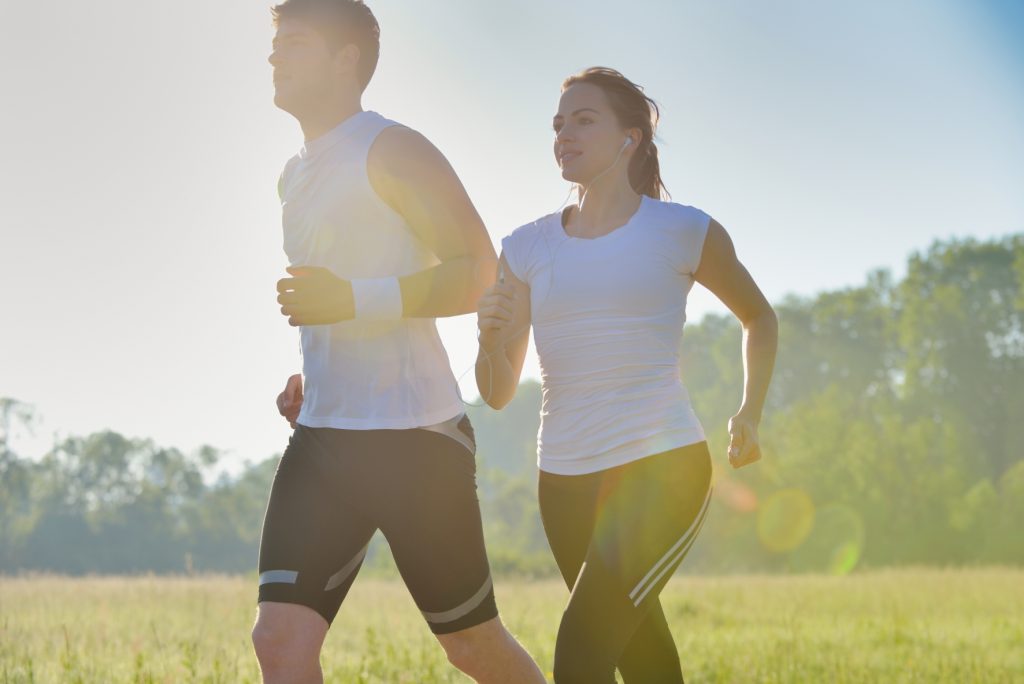 Exercise has some amazing benefits for your mind, body, and skin! It circulates your blood helping clear dirt and impurities from your skin creating a healthy glow. However, sweat, heat, and tight clothing can negate the benefits your skin may get from the exercising. Healthy hygiene habits and a complete daily skin care regimen will help you maintain healthier looking skin without having to make any sacrifices to your workout routine.
Protecting your skin begins before even stepping foot in a gym. If wearing makeup, it is best to remove it prior to working out to prevent clogged pores. If exercising outdoors, it is always best practice to apply sunscreen to prevent sun burns and worsen sun damage like melasma. Clothing is important as well: Wearing light, breathable clothing that does not rub against your skin will decrease the chances of irritation. Wear material that wicks perspiration away from your body so that bacteria does not sit on your skin until you get out of your workout clothes.
It is best to immediately take a shower after your workout to wash off any bacteria and impurities your skin may have collected. This is also the beginning of your skincare routine: cleansing. Cleanse your skin by washing with a purifying milky or foaming cleanser appropriate to your skin type–like Epionce's Lytic Gel Cleanser which is great for your body and oily skin. Follow up with a balancing toner to refresh your skin post-shower.
Vitamins and extremely mild acids are best used to help prevent the formation of damaging inflammatory factors, the common cause underlying many skin care conditions and diseases. Epionce's lytic products gently remove dead skin cells at the skin surface without aggravating inflammatory skin conditions affected by barrier disruption, sometimes caused by physical activity. Lytics optimally clean out pores, remove blackheads, whiteheads and other mild to moderate acne lesions.
Finally, we want to restore hydration and moisture to the skin. Moisturizers with Hyaluronic Acid help restore hydration and moisture. Renewal Facial Lotion or Intense Defense Serum which have both HAs and nourishing vitamins. Hyaluronic Acid used over long periods of time can also reduce volume loss caused by age, and restores fullness to the face. The best way to restore moisture is by drinking lots of water–especially after a workout. Drink at least 8 cups a day to keep your healthy, clear, and glowing skin.
The Appearance Center of Newport Beach offers a comprehensive approach to facial esthetics, plastic surgery, and skin care. Our board-certified plastic surgeons, experienced medical esthetician, and knowledgeable staff provide complete, individualized care to ensure natural and refined results for our patients. All the Epionce products recommended in this post can be purchased by visiting our Epionce Skin Store (or by clicking here). For more information visit us at 180 Newport Center Drive, Suites 158 & 159, Newport Beach, CA, 92660–or call 949.200.1600.